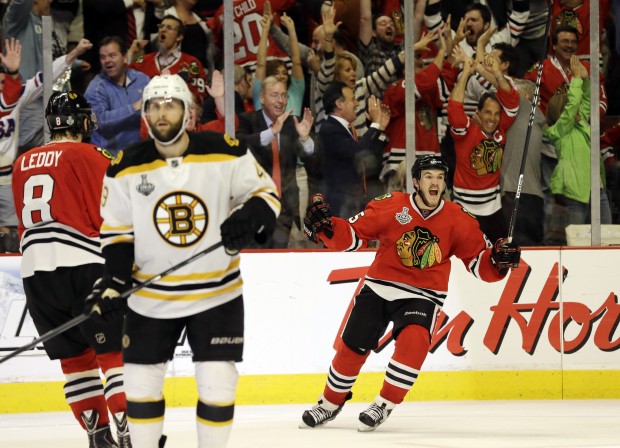 Nam Huh | Associated Press
At the stroke of midnight,
Tuuka Rask
turned into a pumpkin.
Okay, maybe not... but it must have felt like that as the game-winning goal was scored at the stroke of Midnight Central Time as the Chicago Blackhawks survive two too many men on the ice penalties to beat the Boston Bruins 4-3 in triple overtime.
But before they survived those penalties, they needed to come back from two 2 goal deficits.
Milan Lucic
netted the first two goals of the game to give the Bruins a 2-0 lead, but
Brandon Saad
came back nearly 2 minutes later with his first of the playoffs.
In the 3rd Period, the Bruins made it a two-goal lead again with
Patrice Bergeron
's 6th of the playoffs, on the power play. But
Dave Bolland
cut the deficit to two less than two minutes later, and
Johnny Oduya
tied things with 7:46 left to play in the 3rd.
Both teams played with a lot of intensity in the first overtime, bringing many tense moments for fans, including a scare for Blackhawks fans 7 1/2 minutes into overtime when
the Bruins came so close
to winning it.
And this moment in the 2nd overtime where Chicago, trying to kill the second of their too many men on the ice penalties, with
Zdeno Chara
hitting iron
.
Or this moment in the 3rd overtime where
Kaspars Daugavins
had the opportunity to end the marathon, but saw
Johnny Oduya
hit the puck enough
to prevent what would be an open net goal.
Finally,
Andrew Shaw
brought an end to the marathon with
a redirect of a redirect
, beating Rask at Midnight to give the Blackhawks a 1-0 series lead. He then
had a slip of the tongue
in an interview with NBC's Pierre McGuire.
Rask stopped 59 of the 63 shots he faced, and
Corey Crawford
stopped 51 of the 54 shots he faced.
Game 2 is Saturday night at 8:00PM.