Nick Swisher
has an embarrassing night.
Zack Greinke
meets up with the Diamondbacks for the first time since benches cleared on June 11th. And trade rumors circulate involving
Jimmer Fredette
, again.
But the big story is the Mets winning in San Francisco while you were sleeping.
With
Matt Harvey
on the mound, the Mets take a 3-2 lead in the top 6th as
Daniel Murphy
converts
Eric Young
's triple into a run, then Murphy came home as
Ike Davis
hit into a double play.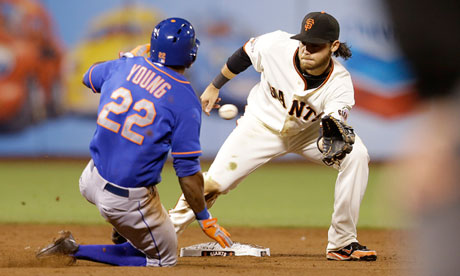 Jeff Chiu | Associated Press
However, the Giants come back, as
Hunter Pence
triples and is brought home on
Brandon Crawford
's single.
The two teams stay off the scoreboard for the following 9 innings, when Eric Young's speed helps gain him 3rd base, and
Anthony Recker
capitalizes on a Crawford fielding error to give the Mets the 4-3 advantage heading into the bottom 16th.
Bobby Parnell
saves the game and strands two as the Mets win at 3:41AM, 4-3 in 16 innings.
It wasn't the best start for Matt Harvey, who admitted he was fighting a blister. But he did pitch 7 innings, striking out 6.
The Mets continue their Bay Area visit with
Dillon Gee
on the mound tonight against
Barry Zito
. First pitch is scheduled for 10:15PM EDT. Pregame coverage begins on 1230 FOX Sports at 9:35PM.
SWISHED
It was an embarrassing night for former New York Yankee
Nick Swisher
. The now Cleveland Indian
stared at a ball that rolled foul
, only to find it come back into fair territory and as he wasn't running towards first base, he was easily tagged just feet away from the batter's box.
Then in the 10th inning, with the Detroit Tigers leading 4-2, Swisher slipped and slid as he rounded 3rd base, and had to retreat back to 3rd, preventing the Indians from scoring the run on a teammate's base hit. He would be stranded at 3rd as the following hitter struck out.
REMATCH
Eight were suspended the last time
Zack Greinke
pitched against the Arizona Diamondbacks. However, it was a calmer affair between the two teams this time around as the Los Angeles Dodgers put an end to the Diamondbacks 5 game winning streak, 6-1.
Greinke punched out 7 and walked 2 in his seven innings pitched, and
Yasiel Puig
continued his case to be the last NL player admitted to next Tuesday's All-Star game with a two-hit game.
MOVING EAST?
According to
Sports Illustrated
, the Sacramento Kings are interested in selling Glens Falls native
Jimmer Fredette
, if the offer's right. In the 2012-13 season, Fredette, who spent most of his season sitting on the pine, averaged over 7 points per game.
The Cleveland Cavaliers are reported to be one of the teams interested in Fredette, but how interested the Cavaliers truly are depends on how things go with
Andrew Bynum
, who was offered a $24 million dollar contract.